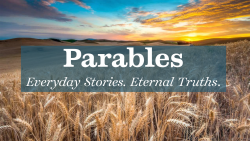 The Wise and Foolish Builders – Matthew 7:24-27
September 19, 2021
Parables: Everyday Stories, Eternal Truths – Matt 7:24-27
What was the last good book you've read? Maybe it's been awhile-or maybe coming off the summer you got a lot of reading done-a variety of beach reads or books you took on vacation! But when it comes to books-if you had to pick your favorites what would they be? Your top 5 books? That's always a fun conversation-discussing your favorite books. Maybe it's something you read recently that you could hardly put down-maybe it's a favorite book you read years ago and continue to reread over and over. Or maybe you watched the movie-and you'll get to the book one day! But I'm always trying to figure out which 5 books I'd take if I was stranded on a deserted island. What would be my reading material to pass the time? As if somehow my plane crashed or I was shipwrecked but happened to wash ashore with a small library of books! But when I make up my Top 5 book list-I try to tell myself that LOTR only counts as 1 book! That way I have room for 4 others! And I hope many of you would bring that book along too. No matter how many times I read it or watch the film-Sam's quote always gets me when he says-Come Mr. Frodo-I can't carry the ring for you-but I can carry you! And he picks up Frodo! It's the idea that he can't carry someone else's burden-his friend's burden-but he can carry his friend! Such a great truth in life! Or if you've ever read A Tale of Two Cities by Charles Dickens one of the main characters-Sydney Carton-sacrifices himself on behalf of someone else-for the woman he loves-and makes the famous statement before dying-It's a far, far better thing I do, than I have ever done; it is a far, far better rest I go to than I have every known. That line is also spoken by Mr Spock in Star Trek 2-the best trek movie out there! But it's this incredible picture of substitutionary death-someone sacrificing himself for the good of others-obviously pointing to the truth of Jesus sacrificing Himself for us. But that's what books do-at least the best books or the best stories-they point us to truth-that being God's truth that's timeless and doesn't change. Again-the best stories are the timeless ones you read over and over because they remind you of those truths. So as you think about your favorite stories-the ones you would take on a deserted island-we're going to begin a new series that examines the stories of Jesus. And far beyond any other stories-these contain truths that last forever and point us to the kingdom of heaven. You could say that Jesus' stories are stories with a point. He's not just trying to write a bestseller or create some entertaining characters-these are Parables: Everyday Stories, Eternal Truths!
Now maybe you haven't thought about that word parable in a while-or maybe you've never heard it before-but that's how Scripture refers to Jesus' stories. They're not just the tales of Jesus or the myths of the Messiah. They're not Jesus' fables (like Aesops' Fables) or the Fairy Tales of the Bible. These are parables. Take a look at how they're referenced-Matt 13:1-3. Yes-Jesus did give sermons, he preached and brought the best messages ever-we can think of the Sermon on the Mount. No sermon will ever top it! But more than just sermons-Jesus told stories. Or as we've said-stories with a point, stories that say something worth hearing.
So I want to start off by saying-that when we come to the parables we are talking about stories. We will be examining the fictitious stories that Jesus spoke. They are not real-just as LOTR or Tale of Two Cities isn't real-although in some alternate universe I like to imagine that LOTR is real and Middle Earth and Gandalf exist-not just made up by Tolkien. But as we come to the parables-Jesus did make them up-they come from His imagination-just like all stories come from the author's imagination. These characters and settings aren't real. However the truths that Jesus communicates in the parables are very real! And that's why Jesus tells them. He wants us to learn something very important! Now the word parable comes from a Greek term literally meaning to throw alongside. And with the idea of alongside the word refers to a comparison-an illustration or analogy. So while we understand that the parables are stories-we need to remember that they're a comparison to something real. Jesus is being very intentional with His comparisons in the parables. The main question is comparisons to what? And this is where Jesus is comparing something unfamiliar with something familiar. That's what a good analogy is. We all remember Forest Gump saying-Life is like a box of chocolates-you never know what you're going to get. Of course life isn't literally a box of chocolates-when you're born they don't hand you a bunch of assorted caramels and fudge-although that would be great! It's simply the analogy of something familiar-a box of chocolates-to something unfamiliar-life (we're all trying to figure life out!) So what Jesus is comparing is the unfamiliar Kingdom of Heaven-that which seems really distant and foreign to us-hard to get our heads around-to that which we know-the familiar stuff of earth. Jesus uses stories we can relate to about everyday life. He tells us the parables so that you and I can know how we ought to live as earthly citizens and pilgrims journeying through this life to His heavenly kingdom-that upon hearing the parables the wheels start turning in our head, the lightbulb goes on so we say-Aha-yes-that's what Jesus means-I get the point now! It's for the Holy Spirit to illuminate our hearts and minds about the Kingdom of Heaven-which is precisely how Jesus answered the question about parables-Matt 13:10-11. A challenging statement-but Jesus wants His followers-you and I-to understand the unfamiliar Kingdom of Heaven. That it would become familiar to us-and our lives would be transformed accordingly.
A good analogy of parables is like the Trojan horse. Do you remember that legend? It was a big wooden horse the Greeks filled full of soldiers and sent to their enemy city of Troy. And the Trojans didn't suspect anything-it just looked like a normal quiet wooden horse. Who doesn't give away big huge wooden horses as gifts? But when the people brought the horse into the center of the city they didn't think anything unusual-a great present from the Greeks-but later that night, when everyone was asleep and nobody expected anything, the trapdoor opened and the soldiers spilled out of the horse to capture the city and overthrow the king. And Jesus' stories are like that-not about soldiers invading an unsuspecting city-but truths invading our hearts. The parables start off normal without us suspecting anything-Once there was a man who had 2 sons…A farmer went out to sow some seed…A man was traveling down to Jericho… They start off like innocent little stories until the trapdoor opens and boom Jesus brings out the truth that impacts our hearts. He gives us an application that shakes us to the core-and challenges the way we've been living so that we'll surrender and grow in Him. When properly understood we realize that the parables aren't simple little stories-but a dagger aimed at penetrating our hearts. Why did Jesus teach in parables? So that as His followers we would know the secrets-that we would know the truth and the reality of the Kingdom of Heaven and then live in light of it.
And we pray that will happen as we begin diving into the parables! Many of us have read our Bibles, faithfully gone to church, feel like we've heard it all before-but let us allow these parables to catch us off-guard-like a Trojan Horse-and land on fresh ears and penetrate our hearts-so that we would be transformed by what Jesus is saying. And the first parable Jesus told is in Matthew 7-in fact it's at the conclusion of the Sermon on the Mount-Jesus' closing illustration. Take a look at it-Matt 7:24. And does this sound familiar? Maybe you're thinking back to your SS days-humming the song-The wise man built his house upon the rock…and the rains came tumbling down. The rains came down and the flood came up, the rains came down…and the house on the rock stood firm! And that's exactly what Jesus says-Matt 7:25. And of course that makes sense-that's a solid foundation to build upon. But then there's the second half of the song-do you remember it? The foolish man built his house upon the sand-and then it's the same-the rains came down and the floods came up…and the house on the sand went splat! The action is like crushing a bug-but that's how Jesus describes it-Matt 7:26-27. A great big splat!
So the parable itself isn't hard to understand-it's not complicated or confusing. It's a normal, straight-forward story-but the point Jesus is making is incredibly profound. So the first question to ask ourselves is who Jesus is talking about. And again-the answer isn't difficult-He's talking about wise and foolish builders. Two categories of people-but that's a very important detail we're going to see emerge in the coming weeks. Have you ever wondered why Jesus divides people into 2 categories-why not 3 or 4 or even a dozen categories-we're all different, lots of various personalities, backgrounds, cultures-why only 2? But Jesus often divides people into 2 categories -those who travel down the wide road and those on the narrow road, those who are the wheat and those who are the weeds, those on His left, those on His right, those who are sheep, those who are goats, those who having the wedding garments, those who don't, those who are spiritually alive-and those who are spiritually dead. And that's the reason for 2 categories. While we might wish there were more than 2-we can't escape the fact that Jesus only describes 2 categories when referring to people-because that's what it will ultimately be in the end. However, right now what do we all have in common-v. 24, 26. Jesus' comparison in this first parable is that all who hear are builders. That's Pt1:Everybody is building on something. That little word on is so important. What are you building your life on? When reading this parable the question isn't whether you're building something, or if you're building on something-the question is what you're building your life upon-because there's no middle ground or third option-I didn't build on the rock or the sand-I camped out in the forest, I parked my life on the gravel, I built my life on the grass. Those options don't exist. The wise man is building his life and the foolish man is building his life-but both are building. And that's what we need to think about and evaluate in our lives because we're all building all the time. We're building our lives on the things we do, the words we say, the relationships we form, how we spend our time and invest our talents and use our gifts-but most importantly we're building our lives by how we hear and respond to Jesus. Do you remember what God commanded to the disciples hanging out on the mountain with Jesus? Matt 17:4-5. People always wish that God would just speak from heaven with a loud booming voice to tell us what to do. And right here He has. Of all the things God the Father could have said-He told Peter, James and John to listen to His Son Jesus. And that's exactly what Jesus is telling us in this parable-everyone who hears these words of mine-but it's not just having your ears open to audibly hear Him-it's hearing that leads to action. It's having our hearts open to respond to words and our lives ready to apply His words-v. 24, 26. Ask yourself-which one am I? What am I doing with Jesus' words in my life? Am I hearing them and building upon them? Or am I ignoring His words, brushing them off to side, procrastinating and telling myself I'll follow and obey Him later when life eases up and I have more time?
In reading and researching this parable, houses were usually built with stone back then. Archeological excavations indicate that the majority of houses were often one or two stories of rough masonry construction with foundations cut into rock. And that lesser quality houses generally still had at least a layer or two of rock at their base even if mud was used for the upper levels. The point is that the people originally listening to this parable clearly knew the importance of rock as a foundation and base for their homes. No one with half a brain would build their permanent house on sand-especially back then-because there wouldn't be an adequate foundation or construction techniques. And Jesus tells us why-v. 25, 27. Storms inevitably come. Being a wise builder doesn't mean you avoid the storms. Properly building your life upon Jesus doesn't mean you get a free pass or don't have to face them-the storms come upon both the wise and the foolish builders. And did you catch how descriptive Jesus was-Rains fell, floods came, winds blew and beat against the house! This isn't a little drizzle or rain-this is like a hurricane! So Pt2:Storms are constantly brewing. And we've all been inside during a thunderstorm-when the winds are howling and we hope our house holds up. I picture Dorothy from the Wizard of Oz frightened as her house is shaking and spinning in the tornado. Hopefully we don't land in a place surrounded by Munchkins and flying monkeys like she did-but the result of our buildings, what we've built our lives on will be tested by the storms of life. That's what Jesus is saying. So Pt3:Our Foundations will be tested. That's not a possibility or a maybe, it's a guarantee. And what's the result? Blessing or disaster, preservation or ruin, life or death-v. 27. Things do not end well for the guy living on the sandy beach! At the start it probably sounded like a great place to be-enjoy life with some beach front property-but in the end it's a disaster!
I've told this story before-but it still traumatizes me and gives me nightmares-when Monica and I were newly married we went with some friends camping outside of Houston for the weekend-and following their lead we pitched our tent on the sand close to the water's edge-it was big lake with a sandy beach. Later that night standing on the pier we saw a big alligator swimming around-people were tossing it food! I recalled my Discovery Channel/Animal Planet viewing and thought-Don't alligators come up to the shore? And so I quickly reasoned-The wise man pitches his tent in the woods and keep limbs from being gator food-and the foolish man pitches his tent along the shore and looses his limbs come morning! Needless to say I got no sleep that night thinking any minute that alligator was going to take a big bite out of our tent-but the text isn't talking about merely losing limbs-it's far worse! Jesus is talking about complete ruin and utter destruction for the foolish man. He doesn't just suffer from a destroyed house or a financial crisis or bad health or a tough season in life-those things will come and we need the firm foundation of the Lord to stand upon when they do. But Jesus is describing God's final judgement when life is over. This great fall is the tragedy of a life that doesn't know Jesus and rejects Him-a life of never trusting Jesus-and the results of that foolish decision. The wise man enters eternity in the Lord's presence-while the foolish man enters eternity apart from Him. The wise man is saved and forever blessed-while the foolish man is lost and forever condemned. So Pt4:Eternity is quickly approaching. One person is building their life in preparation for it-the other person isn't. And that's where this parable become a Trojan horse because Jesus is really talking about heaven and hell. We thought it was just 2 guys building their lives. They built them in different ways-one was a bit more superficial than the other-but we're all unique right, we're all different-why not build as you see fit? If you like the sand better than the rock-who says you can't build there? But what is Jesus saying in this parable-One day what you've built will be tested-one day what you've done-and who you've trusted in will be evaluate-and if it's anything other than the Rock-meaning Me-you will not stand. This isn't a question of personal preference or desire-it's not follow your own truth, build on your own truth-it's about knowing the Truth that there's only One to build on. What did Jesus say in-John 14:6. All other ground is sinking sand! Ruin, destruction-hell itself.
And it's so sad-because the foolish man heard Jesus' teaching. Did you catch that? Jesus said so Himself-v. 26. He heard the message. He was there in church, maybe he'd read parts of his Bible, or had friends who were believers. The words went into his ears-but there was no response-he didn't obey or follow-through or put them into practice. He didn't build his life on Jesus. The foolish man build his life according to his own interests and agenda, his own desires, his own thoughts-and is therefore swept away in the end because there was no saving faith or relationship with Jesus. Here's what you can't miss-as Jesus is telling this parable He's not saying that His teaching is recommended or that it's a good idea to listen to Him, or that you'll improve yourself if you do what He says. Jesus' teaching is a call to allegiance, a call to surrender and faith in Him which is the very difference between blessing and disaster, between standing on the rock or collapsing on the sand when the day of judgement comes. I have a book of old sermons on the parables-and there's one from 1930 by Clovis Gillham Chappell-Clovis, 159.
There is only 1 foundation, there is only 1 Rock, there is only 1 type of person that will stand when judgement day comes-and it's the person who builds their life on Jesus. App: We can't just add Jesus into our lives, we have to build our lives upon Him. Huge difference! It's not that Jesus does His part and you do your part. Jesus isn't a new ingredient you sprinkle in, a new activity you start to pursue, or that church becomes a new hobby to start up. Jesus becomes the source of all your hope, He alone is the one you trust in and surrender to; He's the only one who can forgive your sins, save your soul, and guarantee your future. So it's an all-in sort of endeavor! When was the last time you were all-in on something? That's how it should be with Jesus. The wise man is all-in when he looks at his abilities and efforts and realizes it isn't enough. The wise man concludes that all his good works, all his morality and hard work to please God simply won't cut it-that building on himself, building his spiritual resume before God is nothing more than building on the sand. And we do that-we try to build our spiritual resumes-Lord, I've tried to be a good person, go to church, give money to charity, help out my neighbor, and I haven't killed anybody! But our spiritual resume will never be enough because Jesus is the only perfect person who's ever lived-He's the only One who can stand in God's presence-so our role isn't to convince God that our spiritual resume is good enough-but to say we're trusting in Jesus who's spiritual resume is good enough. That what faith is. We say to God when this life is over-I'm with Him-and point to Jesus. I'm not here on my account but because of His account applied to me–Rom 3:23-24. The wise man realizes he does fall short so he's all-in building his life on Jesus. The foolish man somehow still thinks he'll make it on his own-I've got this-God sees I'm trying my best. But it's not about trusting in your best-it's trusting in the One who is best-App.
The wise man is someone who fights against the endless wave of busyness in life-who stops in the middle of the rushing waters and says-My life isn't going to be swept along by all the stuff going on around me. Instead the wise man says-Lord-I begin with you. You direct my schedule. You prioritize my life and guide my path. I follow you-not have you follow me. May my life be built upon you-not upon myself. Is that true of you? Who are you building upon? In Jesus day no one in their right mind would have built a house on the sand-so why do we still try to do that with our lives today-which is of far more significance! If your life is built on anything less than Jesus-or merely trying to sprinkle Jesus in-than you a building a house of cards that will one day fall and collapse-but v. 24-25. Is your life founded and built on the Rock-that being Jesus?