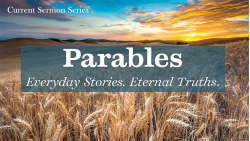 Parables: Everyday Stories, Eternal Truths – Matt 25. Parable of The Ten Bridesmaids. Pastor Jim Erwin
November 21, 2021
Parables: Everyday Stories, Eternal Truths – Matt 25
Are you someone who tends to be be prepared for things in life? I can remember years ago being in the Cub Scouts when I was young-and the motto was Be Prepared. Now I have to admit it didn't really prepare me for much. In any sort of emergency-my first aid skills or my knot tying skills are not good! So when I think about being prepared-the main thing that comes to mind isn't Cub Scouts but school. Did you ever have a teacher who threatened a pop quiz? This was one of the more feared tactics a teacher could take-because unlike a normal test that you studied and prepared for-this was unknown. You had no idea when you might show up to class and be randomly tested on the subject matter you were learning-so you had to make sure you were studying, always ready to remember and recall the information. You had to be prepared because you never knew when the teacher might announce those two dreaded words-pop quiz. I can still remember the time I heard those words-it was in high school Spanish class. Now don't ask me how much Spanish I know-as this story will soon reveal! But our teacher was always threatening a pop quiz. Month after month-You kids need to study your Spanish because one day there's going to be a pop quiz when you're not expecting it! But because she never did it, we thought it was an empty threat-something to scare us and make us study. We didn't think she'd follow through-so we didn't bother to prepare. Let me elaborate-I didn't bother to prepare-maybe some of my classmates did which would make them far wiser than me-because one fine spring day we entered class and our teacher said-Close your books-take out a piece of paper. And this was different-something out of the ordinary-until she said the 2 words-pop quiz! The day of reckoning had come! It wasn't an empty threat-her promises became a reality-and she relished every moment of it. It was a 20 question pop quiz over our Spanish vocabulary-and guess how many I got right out of 20? One! It was the word-un yeso-it means plaster cast. Why I knew that word still baffles me. But do know what my grade was on the quiz-getting only 1 out of 20? Clearly I didn't know Spanish-but I did know mathematics-and it was a five. 5% Not 50%-which is still a failing grade-but but a 5%! Quite honestly I would have preferred a 0% over a 5%-it just sounds worse-like getting kicked when you're down. Actually I found it rather funny-so I made sure everyone in the class knew I got a 5%. I think my teacher found it rather humorous as well. But there were 2 things I learned-1) If I'm in Spain or Mexico and break a leg I'm asking for un yeso-2) Be prepared because you never know what might happen.
And that is exactly the idea that Jesus communicates in our next parable. Although the stakes are far higher than just being prepared for a pop quiz in high school-because Jesus is talking about being prepared for the world's end. If you have your Bibles you can open them up to Matthew 24-or we'll have it up on the screen-Matt 24:3. This is the intro to Jesus' last great sermon known as the Olivet Discourse since it took place on the Mount of Olives. Of course Jesus' first sermon was the Sermon on the Mount in Matthew 5. So there's this great symmetry between the beginning and the ending of Matthew with these mountaintop sermons. But it's this last sermon where Jesus discusses the end of the world. And before we dive into it I just want to ask when was the last time you thought about the world's end? Or do you even consider it as a real thing? Certainly we know the concept-this world is going to end one day-but how often do we brush it aside and treat it like something out of a science fiction movie or dystopian book? Or if you're honest with yourself you're probably more focused about getting to the end of your day when you can head home and put your feet up-or getting to the end of your week and enjoying the weekend-rather than thinking about the world's end. We know it will happen one day-but the key phrase is one day-certainly not anytime soon. More of an empty threat than a tangible reality. But that's why Jesus tells us this parable-so we can arrange our thinking around the end of the world and be prepared for it. If you've never read the Olivet Discourse before I encourage you to do so-the rest of chapter 24 is a fascinating read-but the parable gets underway in Matt 25:1. And this has been the same format we've seen in several of the parables-particularly within Matthew-look at Matt 13:44-45. Jesus is comparing the unknown and unseen kingdom of heaven with something we do know and can see-in this case treasure or a fine pearl. He's highlighting the incredible value and worth of the kingdom. Or take a look at Matt 13:31-33. Jesus is talking about how the kingdom is so pervasive and will one day be what lasts-even though we can't see it now. And that's why He tells this parable at end-the kingdom of heaven is coming, you can't stop it, it will cover the earth, it's eternal-it is the new heavens and the new earth-therefore be prepared! And that's what this parable declares-back to Matt 25:1-2.
So Jesus is saying that there's a day coming that will resemble this parable-a day that we will either deeply dread or eagerly anticipate. A day in which the point of this story will become actual reality-it may be tomorrow, it could be a month or a year from now, 5 years, 50 years or even 500 years from now-but there's a day when the Bridegroom will return-and that's Jesus. Now you and I are like the bridesmaids awaiting His return. Obviously we've all been to a wedding seeing the bridesmaids dressed up-for the ladies here maybe you've been a bridesmaid before. But there's a big difference between the wedding customs of today and the customs of a first century wedding that Jesus is describing. Back then weddings would begin at the bride's house where the bridegroom arrived for his bride-then the procession would follow from the bride's house to the groom's house where the wedding celebration and feast would occur. But the procession was great. It was a grand time of singing and dancing to honor the occasion-basically functioning as a traveling parade-often occurring at night under the moonlight and starlight. That's the reason for the lamps that Jesus describes. They were used to light the way as the wedding party wound its way across the countryside and through the village-so it was a magical time. Our modern day equivalent is tin cans tied to the back of a car-Just married!
But try to visualize this event-the bridesmaids are all dressed up, ready for the wedding-but instead of holding bouquets of flowers they have burning lamps-or it may be footnoted as torches-basically sticks wrapped with oiled rags that would burn and produce light. There's this anticipation and excitement as the night is lit up awaiting the bridegroom. And don't miss the analogy Jesus is making. If you were at our Communion Potluck meal we talked about how the opening event of eternity-the way that the new heavens and new earth are ushered in are by the wedding feast of the Lamb-Rev 19:7-9. Everyone who's trusted in Jesus for salvation is part of the Church which is the bride of Christ. And Jesus is coming back one day for His bride to take us to His home-the place He's preparing for us-the groom's house. So that feast-the marriage supper of the Lamb is what kicks it off-it's the party that says heaven is here, eternity has begun. This is the celebration you don't want to miss. So connecting it to the parable-that celebration-the marriage feast-is what the bridesmaids will be journeying to on their moonlight parade with their lamps. And of course that represents our spiritual journey in life, our preparedness in waiting for Jesus' return. But there's just one problem-some of the bridesmaids aren't prepared.
Look at-Matt 25:1-2. It's very reminiscent of the first parable we looked at in the series about the wise and foolish builders-those who built their house on the rock and those who built their house on the sand. Some people were prepared in life and some weren't. And in this case it's not where you've built your house-but whether your lamp will stay lit. Take a look at it-Matt 25:3-4. The foolish bridesmaids just have the torches. Whatever oil is already soaked onto the rag or on the wick will burn-but once it's gone and burned up-it's gone-that's all they have. But the wise bridesmaids brought extra flasks of oil to resoak the rags and make sure the torches keep burning. The wise ones brought fuel for the fire-the foolish ones didn't. Sort of the equivalent of bringing extra batteries for your flashlight. Or bringing a portable charger for your phone-isn't that what we use for flashlights these days? But how many of us take every precaution to keep our phones charged so they don't run out of batteries? That when your phone starts to go below 10% you're freaking out! Who's let their phone get to 1%? Talk about stress! You're frantically asking if anybody has a spare charger! That's what these bridesmaids will soon be asking as their torches get to 1% because look at what happens-Matt 25:5. Punctuality wasn't nearly as important back then as it is today. The wedding procession could be delayed for quite some time-even hours because prior to the wedding, the groom would be with the bride's family deciding on the bridal price for their daughter. The groom would say to his future father-in-law-Here's 5 sheep to marry your daughter. And the father-in-law would say-Well, son if you're willing to part with 5 sheep, how about 7 sheep and a new wheelbarrow? Dads had to drive a tough bargain back then! Remember how Jacob had to work 14 years for his father-in-law in order to marry Rachel. So maybe there was some haggling and negotiating going on-either way the groom was delayed and all the bridesmaids fell asleep. Until they were awakened by the announcement they'd been waiting for-Matt 25:6. The moment had finally arrived. Here comes the groom-would be the song! The midnight procession could begin! Except for one little problem-Matt 25:7-8. They realize they're not prepared. Their lamps are down to 1% and there's no portable charger, no spare batteries-they have no extra oil. So they're asking the wise and prepared bridesmaids if they can borrow some-which seems like a logical request-can we share some of the oil that you brought? But I love what RC Sproul says in his commentary-This parable is not about sharing-it is about being ready for the coming of the bridegroom. Jesus can teach us about sharing in others verses-plenty of other opportunities to talk about that! Sharing isn't the focus-this is about those who are ready for the groom's return-and the foolish bridesmaids are not-Matt 25:9. In this case sharing their oil would mean both groups would run out because there's not enough to go around. There wouldn't be a wedding procession as all the lamps would go dark. The wise ones only brought what they individually needed-so it's better to send the foolish ones back to the market to buy more rather than ruin the whole wedding procession. Each bridesmaid was responsible for her own preparation-the point Jesus is making is that no one can do it for you. The wise ones are prepared-and the foolish ones are in a pickle! Look at Matt 25:10. The groom shows up at the bride's house and says Let the procession begin! And off they go-the 5 bridesmaids with torches lit, traveling down through the village in their midnight parade until they arrive at the groom's house for the festivities to begin.
Meanwhile the other 5 bridesmaids finish up at the marketplace buying oil-only to return and discover they missed the groom! He showed up while we were away! So they hurry to the groom's house still eager to join the celebration-and now the trapdoor opens-the twist we didn't expect-Matt 25:11-12. Instead of being welcomed in, they're denied entry. The groom is saying it's too late-you weren't ready when I showed up so you've missed your chance. The door is shut. The celebration is happening without you. And Jesus isn't really talking about unprepared guests for a wedding, He's talking about unprepared people when He returns and the world ends. How does He conclude-Matt 25:13. Jesus is saying-You don't know when the groom is returning-and that groom is Me. Once the door of grace shuts-like the door to this party-it will not reopen.
The parable has a chilling end for those left outside-stuck and locked out-but for those on the inside it's a glorious ending because it's that glimpse of the marriage feast of the Lamb when eternity begins. On the one hand there's absolute joy for those who are there, and on the other hand absolute sorrow and separation for those who aren't. Two completely different outcomes, two opposite endings-and that's Pt1:Preparation occurs inwardly. There was little external difference between the 10 bridesmaids. At the beginning of the parable they looked basically alike. They're invited to the wedding, they're dressed, they have their lamps, they're waiting for the groom and anticipating the wedding procession. If you would have looked at these 10 bridesmaids you wouldn't have realized they were 2 different groups. It wasn't as if the wise ones looked more holy and pious and the foolish ones had a grumpy scowl. The difference was that the wise ones asked themselves-How can I be ready for the groom's arrival? And then they did what was necessary-in this case having a little flash of oil. It's such a small detail when you think about it-but it's a detail that makes all the difference in the end. And Jesus is telling us to apply that same truth to our lives. To ask-How can I be ready for the groom's arrival? Because as Jesus is telling this parable He's talking about the church. These 10 bridesmaids represent the church-and when we look at the church we see a bunch of people that look alike. People that have fairly decent morals, try to do what's right, show up Sunday morning, and listen to the sermon (obviously not falling asleep!)-but the difference isn't external-it's internal. Just like the 5 foolish bridesmaids weren't ready to meet the groom, so Jesus is talking about people in the church who aren't ready to meet Him. They could be good church going people who sing about Jesus during the service-but they haven't surrendered their hearts to Jesus and experienced that inward change He brings. And that might seem like a small detail-just like the flask of oil-but it makes all the difference in the end. Because trusting in Jesus and being born again is the dividing line between those who enter the marriage feast and those who don't. External appearances, religious performance, church attendance, charitable giving-none of it saves you-only the internal reality of believing in Jesus. That's the change that needs to happen in your life. Surrendering to Jesus is the preparation-and it needs to happen now-not later. You can't put it off.
So Pt2:Procrastinators Perish. That's what the foolish bridesmaids did-they procrastinated until it was too late. Spurgeon, 382. Who's a last minute person? You don't do things ahead of time-but rush around at the end? Do you get out the suitcases a week before vacation and start packing-or do you scramble last minute and throw in some t-shirts the night before? Sometimes we can get away with procrastinating (until we're on vacation and realize we forgot to pack socks!) But most times we can't. As Thanksgiving is approaching-is anyone thinking about waiting until Thanksgiving morning to go buy a turkey and start getting dinner ready? It's too late. Or what about Christmas? Who wakes up on Christmas morning and thinks-Time to buy some gifts. Where to go shopping? Nothing's open-your only option is a Slurpee at 7-11. Even the worst procrastinator will at least get something a day or two ahead of time. So if we recognize the preparation involved for those annual holidays-why would we ever miss the preparation for eternity? The people in Jesus' day knew how important a wedding procession was-it was an honor to be a bridesmaid-so the fact that 5 foolishly forgot to bring extra oil was unthinkable. No one would be caught dead not preparing for a wedding-and Jesus is comparing the lesser to the greater-if you wouldn't forget to prepare for a wedding, why would you ever forget to prepare for eternity? But people do forget, they procrastinate all the time! Maybe you know people like that-maybe that's you. As we said-this parable is directed to the church. Jesus is describing people who've known the gospel and heard it explained-people who've heard the truth and even read their Bibles-but have never taken the crucial step of surrendering to Him and being transformed.
Look at Matt 26:1-2. That's the gospel. Jesus-the sinless, innocent Son of God-dying for you-becoming that sacrificial Passover Lamb to pay for your sins and bear your punishment so you could be forgiven and saved. Trusting in the truth of His death transforms from a lost sinner to a child of God. He's our great Substitute. Jesus endures what we deserve so that we can receive what we don't deserve which is eternal life with Him our Bridegroom. That's grace-which is the heart of the gospel. And that means your preparation isn't cleaning yourself up. It isn't trying to live a better life or being more religious-it's simply responding in faith to what Jesus has done for you. Repentance is realizing that you're lost and can't save yourself-and faith is reaching out to the One who can save you. Look at Matk 1:14b-15. So notice that connection between the kingdom of God and believing in the gospel. And that's exactly what Jesus is saying in this parable-the kingdom of God is like bridesmaids waiting for the groom's return-and the way to enter the marriage feast is to repent and believe in the gospel. Have you done that? Have you spoken words of faith and repentance to Jesus? Or maybe you did a long time ago-but it didn't mean much and your words felt empty. There's nothing magical you need to say or any correct wording-instead it's a change within your heart as you surrender yourself to Jesus realizing that He-the Bridegroom-is the only one who can save you. And that without Him you're standing outside as the wedding feast begins. So Pt3:Preparation is personal. Each person is responsible for their own heart. Nobody can get by on someone else's faith. And a lot of people don't realize this. They've been exposed to the gospel-but somehow think they'll get by on the coattails of someone else. The foolish bridesmaids did-Share with us some of your oil. But the wise ones realized it doesn't work that way. So in the same way-no one can stand before God and say-Remember my mother-she was a godly woman-you know how strong her faith was! God will say-Yes-she did have faith-but what about your faith? Or a person might appeal to a pastor, a SS teacher-even a friend or a spouse-Lord, you remember how dedicated my wife was in trusting you. She prayed for our family all the time-her faith was important to our house. And God will say-Yes-but was faith important to you? Each person must stand on his own. Your mother's faith will not save you. Your wife's faith, husband's faith will not save you. You won't get by on your son or daughter's faith. The question is where do you stand? Are you ready to meet the groom?
So Pt4:Be prepared now! Today as you hear this parable-spiritual preparation is an option-because the groom hasn't returned yet. So every one of us is in this parable-it describes our lives-we're all holding lamps of oil waiting for Jesus. The question is which bridesmaid are you? Foolish or wise? The foolish say-there's all the time in the world-no need to worry or rush about spiritual things. But the wise ones are those who've turned to Jesus and the oil of His Spirit is burning brightly in their hearts. But what's so important to realize is that Jesus returned when they didn't expect it. Look at Matt 24:36-39. Bible scholars think it may have taken Noah 120 to build the ark-for so long the opportunity to join Noah and his family was available. But there came a day when Noah boarded the ark and God shut the door. All those people who didn't bother to hear his words or prepare felt a raindrop and then another and another-until it became a flood and swept them all away. And no matter how much they may have pleaded and pounded on the door of the ark-it remained shut. Just the like the bridesmaids at the wedding feast-Open up, we're here, we got more oil. But it was too late-repentance was no longer possible. And like the people of Noah's day they were swept away to destruction by their own foolishness. It's not going to rain! The bridegroom isn't coming for a long time. And back to my story-My Spanish teacher isn't giving us a pop quiz-it's an empty threat-there's no need to study. Until one day it happened-Class, get out a piece of paper and close your textbooks. Wait-give me a few more minutes to study-please! Nope-pop quiz! I missed the chance and the result was failure.
The day of grace is here. Don't miss it. Don't think you have all the time in the world to turn to Jesus. Don't think you have all the time in the world to share the gospel with your friends and family. The world's not ending-Jesus isn't returning for a long time! If you don't read this parable and feel the urgency that Jesus is communicating-then you've missed it. The groom is coming. The wedding feast is about to begin. The truth of what it says will happen-Matt 25:6. That's going to occur on our planet one day. For some it will be a day of much anticipated joy and longing, wonder and celebration when Jesus returns. But for others it will be a day of great sorrow and dread-Not yet. Give me more time-I'm not ready. But no more time will be given when the groom returns. The truth of this parable is literally fulfilled by Jesus Himself. Look at the very last words of the Bible-Rev 22:20-21. May your heart be prepared by embracing that grace and trusting in Jesus-your Bridegroom who's on His way!