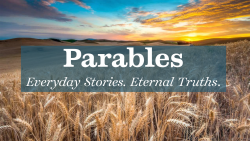 Parables: Everyday Stories, Eternal Truths – Matt 13:44-46. Pastor Jim Erwin
October 3, 2021
Parables: Everyday Stories, Eternal Truths – Matt 13:44-46
What is one thing you most want to buy? One thing you most want to own? Maybe you already have it and spent a lot of money to get it. Or maybe it's in the back of your mind and you haven't told anybody you want it-you're just dreaming about it. If money was no object, what would you love to have? Maybe it's a new 4K flatscreen tv, a new laptop, or the newest phone, or a PS4. Maybe it's a new wardrobe-you're sick of your old clothes. Maybe a car-a Tesla or a Jeep-maybe it's a boat or some jet-ski's. Or maybe it's something antique-something nostalgic from your childhood or a vintage car you'd love to fix up. Between eBay and Amazon-getting those things is a lot easier than it used to be! But imagine if you've been shopping all day-going from store to store, dealer to dealer-and just can't find exactly what you want. Before heading home you try one last store-sort of a last ditch effort-and there it is! They have it-they're not sold out-they just got one it. You can't believe it-you're so excited-and yet the price tag is way too high-far too expensive. So now you're stuck. You've got a big decision to make-should I or shouldn't I buy it? Of course you want to buy it-but it's way more than you wanted to spend, way more than you should spend. So you stand and agonize over the decision. Have you been there before? This is it-what I most want! If I have this I'll never shop again! But it's so much money! I need to use that money to pay the bills. Or I could use the money I was saving-but I don't want to empty my savings account. What should I do? Your mind goes back and forth weighing the options. Who buys it? Who walks away? If you're like the Erwin's-you walk away without buying it, then halfway home decide you do want it-so you turn around go back-and then once in the store you decide you don't want to buy it again! But the decision is miserable because if you don't buy it-then you don't have this most perfect treasure you desperately want-but if you do buy it you feel bad for spending so much money on it and feel guilty or even in debt. I can remember several years ago finding a 1st edition of The Silmarillion by Tolkien at a used bookshop for $60. I wanted it really bad-perfect condition. But it was too much-I decided against it-and then went into another bookshop down the street and saw the exact same 1st edition for $4-unbelievable!
To buy or not to buy-that is the question! Actually I believe the real question goes deeper than that-it's not whether you do or don't buy the item-the question is-What's it worth to you? How valuable is this treasure? Because if it's as great as you claim then the high cost isn't a problem. You'll pay whatever it takes to make it yours. And if you really don't love it as much as you thought-the the cost is too high and you won't pay it. There's always a trade-off. What's it worth to you? That's the question a farmer and a merchant ask themselves in the next set of parables.
Open your Bibles to Matt 13-and this is the same chapter that had the parable of the sower from last week. Jesus is spending a lot of time telling Everyday Stories to communicate Eternal Truths-and you'll see that immediately-Matt 13:44. There it is-the 1st parable in which a farmer stumbles upon a great treasure. Jesus didn't day he went out looking for treasure or knew there was treasure to be found. Rather it was something extraordinary he happened to find. There he is one day out in the field working the ground and doing his chores like normal when his shovel strikes something hard. Maybe he initially grumbled thinking he'd hit a rock or an old piece of something buried-when he bends down and sees to his surprise a box, a jar, a chest half buried in the soil. He digs it out, lifts it up and sets it on the ground and opens it to discover something he never imagined finding-beautiful, glittering, gleaming, twinkling, sparkling, precious jewels. An actual treasure chest! Riches beyond his wildest dreams! We've all seen movies about buried treasure-from The Goonies to National Treasure to Pirates of the Caribbean. But has anybody ever found any treasure? Or who gets excited finding money on the ground?
I can remember finding money one time on the sidewalk a few blocks from our church in London. I looked down and there was a 2 pound coin. This is the biggest coin they make-2 pounds is about $4-so it was a great find! I bent down to pick it up and discovered it was glued to the sidewalk. I looked over and saw 2 old guys standing out their store smiling. They were watching people all day trying to pick it up-having a great laugh! So while I couldn't make the treasure mine-the farmer in the parable does make the treasure his-such an important point! According to the law, whatever was in the field was the property of the one who owned the field. So the farmer logically thinks-I'll just re-hide the treasure, buy the field and then it will be mine. Anybody try this tactic at the store? I'll hide it in the back and then when I have enough money I'll return to buy it because nobody will catch on to this trickery and look all the way in the back! I used to do that with action figures when I was young-having to save up my allowance. But the farmer is literally saving and selling all he has. This treasure is worth more than everything else he owns combined-he'll have to sell it all-but he's okay with that-more than okay-because it's worth it. Did you catch what the text said-v. 44b. He does whatever is necessary to obtain the treasure. His neighbors were probably bewildered seeing him put everything up for sale. Why huge garage sale? Everything must go? Maybe they tried to talk some sense into him-are you sure you want to buy that field? But he had found the joy of the treasure-and there was nothing he wanted more! And we see the same thing happening to the merchant in Jesus' next parable-v. 45. And in this case the servant didn't stumble upon the treasure-he went out seeking it. He knew it was there-searching through all the markets, contacting all the dealers, and when he finally found it what did he do-v. 46. He also counted the cost and arrived at the same conclusion as the farmer-all I own vs this great pearl? No comparison! This pearl is priceless-far exceeding all that I have-let me part with everything in order to have it!
Is there anything worth that? All you have in exchange for this? And Jesus isn't talking about buried treasure or valuable pearls. What's the treasure? The answer is The Gospel. It's the good news of God's Word that even though you've sinned and have all sorts of flaws and baggage in life-Jesus loves you so much He died to pay for your sins and change you from someone flawed to someone forgiven. That you can be redeemed, restored and reconciled to God-fit to dwell in His kingdom. Because did you notice how both these parables started-The kingdom of heaven is like… The gospel makes us citizens of heaven-it's the kingdom the world has been earnestly searching for but never found-it's the only kingdom that's eternal, the only kingdom that matters. Why? Because it's the place God has always intended, the place that we are meant for. In the Kingdom of Heaven you'll live in God's perfect world, eating from the Tree of Life-like Adam and Eve did once-but instead of giving into temptation and getting kicked out of paradise, you'll be resurrected to new life-which means you're free from this old, decaying body and free from all those sinful habits and desires that constantly drag you down and trip you up. You'll dwell in a place of perfect justice and goodness and love-a place with no more death or crying or pain as Revelation 21 says. Can you imagine a place like that? Can you imagine a perfect world filled with perfected people? It's hard because we live in a fallen world where death and pain and disease and hardship and injustice and disappointments are normal. It's a part of life here-but in the Kingdom of Heaven it's gone forever! And even more than that-the Kingdom of Heaven is the place where the King Himself lives. Never again will you have to go around another corner, over another hill, down another street, for you will have arrived at the place you've always been searching for, the place your heart has longed for because it is the place where He is! You see the treasure in this parable is the gospel-which points you to the Kingdom-which ultimately points you to the King Himself-Jesus. The very One telling us this parable-the One who died so that you could be there with Him. So that means there is nothing more valuable in all the world than knowing Jesus and having the immense privilege of living in His presence forever. What did Jesus say in John 14-In my Father's house are many rooms-and I go to prepare a place for you-and if I go and prepare a place for you-I will come again and take you to myself that you may be where I am. That's the treasure Jesus is talking about! This isn't old-fashioned religion or some sort of vague spirituality or wishful thinking-this is a real and concrete destiny!
The apostle Paul discovered the buried treasure-Phil 3:7-9a. Paul is speaking like the farmer and the merchant-I would sell everything for knowing Jesus-it's totally worth it! Which is precisely what Jesus' parables are saying-It is worth it. Jesus is saying that entrance into the Kingdom of Heaven is more valuable than anything else on earth. He's saying-Believe Me-I come from there. I'm the One preparing the place for you and it's going to be incredible! You'll love it! It's like coming back from a vacation and telling all your friends-You must go there-it was so beautiful, so scenic, the pictures don't do it justice-you just have to go for yourself. Trust me and book your next vacation there! Jesus is saying that-the Kingdom of Heaven is the greatest treasure-it's worth selling everything to get there! And that leads to the second question-What's the cost? And the answer is simple-but incredibly profound-Everything! The treasure is of infinite value so giving up temporal things for an infinite return is the wisest investment you could make.
I'm reminded of a conversation that Jesus had in Matthew 19-turn there-because it's nearly identical to these parables-Matt 19:16. And if he's seriously talking about eternal life-isn't that the greatest treasure we've been talking about? What's more important? And so they talk about the commandments-and then Jesus says in Matt 19:21. Jesus is basically saying to be like the men in the parables who went and sold all they had. And in their joy they went and did it. Not this guy-the contrast couldn't be more stark-Matt 19:22. His great possessions made him lose sight of the great treasure. The temporary pleasures and power of his wealth was too much to give up. I think this guy realizes that selling everything will revolutionize his life. It will turn everything he's valued upside down-that selling everything to follow Jesus means a big change-and he doesn't want to do it. And it's not any different for us. If there's one thing people hate in life-it's rearranging their priorities. This man is literally standing face-to-face with Jesus-eternal life is being offered to him-it's right there for the taking-the greatest treasure in the world-and the guy says No-I won't pay the price. And he walks away happy, glad he made that decision, spring in his step? No-he walks away sad-momentarily rich but spiritually bankrupt. And so many people do that with the gospel. They hear the message of Jesus, the good news of salvation and yet they walk away. Why? Because they believe the lie that the cost is too great.
But here's question-is any earthly cost too great to obtain eternal life with Christ? Not at all! Whatever we might pay here is nothing compared to the infinite inheritance Jesus has in store-Peter says it's imperishable, undefiled and unfading. This guy traded a few years-assuming he was 30-maybe 50 or 60 more years of earthly riches for an eternity of emptiness and separation from God. The most foolish decision he could ever make. The farmer and the merchant saw the treasure and determined to have it-doing whatever was necessary to acquire it-but this guy is like so many people who see the value of the gospel-but as they reflect on it, realize it would be too much trouble, too much of an inconvenience, priorities would have to be adjusted, values would have to change. I imagine this rich, young ruler thought to himself-Sure I can have treasure in heaven but you know it's just too much trouble right now to sell everything and follow Jesus. I can't be bothered with that-too much on my plate right now, so many other things happening. And he walks away with that glittering treasure laying there-not to be his.
Now let me make this clear-we don't pay an earthly price in order to earn our salvation. Salvation is by faith alone through Christ alone. You're justified before God only because of the saving grace of Jesus who died in your place. Titus 3:5-God saved us, not because of works done by us in righteousness, but according to His own mercy. You can't seek to give up everything in order to please God and earn your way to heaven. Salvation is a gift of God that you receive by faith. But what does salvation mean? That Jesus is your new King-just as you bow to Him receiving salvation-so you bow to Him in all areas of life. That's the cost of everything. So I want to end with 3 areas where that happens. What does it mean to sell everything and obtain the treasure? App#1: Sell off Self-righteousness. Yes we want to be esteemed by others, praised by others, noticed by others. What a good Christian you are. What a kind and loving person you are. Look at all you do for the church-you're such a talented and selfless servant. And deep down you're eating up the praise! Or we think that by being very good we'll earn God's favor and blessing-that He'll be happy with us and reward us accordingly. But the gospel says self-righteousness must go-sell it off. You're not saved by how good you are, you're saved because of how loved you are by Christ. His grace cuts right through your self-righteousness and replaces it with humility. The cost is that you have to give up your pride, abandon it, leave it by the door-surrender to Him because Jesus says salvation isn't about what you've done for Me-it's about what I've done for you. And that leads to App#2:Sell off Sinful Pleasures.
As Jesus transforms your heart, He roots out everything that stands in contrast to Him, any sinful habit you have must go, any wrong attitude that's lurking in your heart will be removed, any bitterness or envy. As a believer, your sins were nailed to the Cross-they were put to death with Christ. Therefore the cost is truly letting them die-saying-Lord, remove those old habits and desires that grip my heart, let my heart be gripped by you instead. Let me not delight in sin which leaves me cold and empty inside-but let me delight in You and thirst for righteousness. I'll be first to say it's a painful cost. God has to peel off that old, sinful self off like a scab-and it hurts. We don't want to let our sin or selfishness go-but God promises something so much better. CS Lewis-Weight of Glory-God finds our desires, not too strong, but too weak. We are half-hearted creatures, fooling around with drink and sex and ambition when infinite joy is offered us. Like an ignorant child who wants to go on making mud pies in the slums because he can't imagine what is meant by the offer of a holiday at the sea. That's the treasure! And it's App#3:Sell off Short-sighted priorities. The rich young ruler was caught up in his business, his wealth, his success, his reputation-and Jesus said-Those things need to go-you've seen the extraordinary treasure of the gospel-leave everything and follow Me-but he didn't! The farmer did sell everything he had to buy the field, the merchant sold all his possessions for the pearl. Peter and Andrew left their fishing nets and followed Jesus. Matthew and Zaccheus left their tax collecting jobs. Paul left his great reputation behind. What about you? Obtaining the treasure of Christ becomes a 180 degree reversal because He alone becomes your treasure. Life is no longer centered on the here and now. You're not defined by your job or what you do for work or fun, you're defined as a citizen of the Kingdom of Heaven. What re-arranging of priorities does God need to do in your life? What things does your heart need to sell off? Ask yourself-that's a process that continues throughout all of life. Every day God shows us more and more stuff that needs to go, the things that are tugging at us-in order to make Him our greatest treasure. Dead Sea scrolls story-As important as that treasure was, these parables reveal an earn greater treasure-for the Word of God reveals the Word Himself Jesus. All the Bible points to Him. Your heart was created for nothing less than treasuring Jesus-your Maker and Savior. So failing to treasure Him is a colossal mistake!