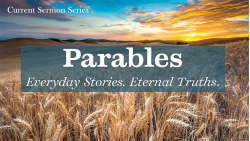 Parables: Everyday Stories, Eternal Truths – Luke 15: The lost coin and lost sheep. Pastor Jim Erwin
November 7, 2021
Parables: Everyday Stories, Eternal Truths – Luke 15
Are you someone who tends to lose things? How do you feel when you lose something? Panicked, worried, distressed, frustrated? Maybe you can't relax until you find it. It depends on what you've lost-if it's something valuable or not. Years ago one of our kids lost their blanket when we were shopping. Not just any blanket-but the blanket. If it wasn't found, we weren't sure if our child was ever going to fall asleep again-or if we would ever sleep again! Our shopping was put on hold as backtracked through all the stores until we found it lying on the ground in the the home furnishings section of a department store. Whew! One lost blanket recovered! But maybe you've lost something really priceless or important. What about lost pets-anyone ever posted a sign for a lost pet before? More importantly anybody ever have a pet returned pet returned because of a sign? I find it funny when the signs say do not chase. I hadn't planned on! But here's a few of my favorite lost dog signs-pic.
But no matter what you lost-if it's important you'll put everything on hold while you look for it. Who's good at finding lost things? I want to take a poll. Are you someone who looks and looks and looks until you find it? Or are you someone who looks once, you glance around-and say it's lost and give up?
Looking for lost things becomes the focus of the next conversation we're going to encounter from Jesus. Open your Bibles to Luke 15-or we'll have it on the screen. Something has gone missing and the search has begun-Luke 15:1-2. Now we'll return back to those details shortly because they form the context for why Jesus tells His next 2 parables. But as we saw last week, Jesus uses people's bad behavior as important teaching moments. Last week it was the man interrupting Him, this week it's the Pharisees grumbling about Him. So take a look at how He begins-Luke 15:3-4; 8. Two different people-with two different sets of lost things. And for the woman, this coin wasn't something like a missing quarter or nickel. No big deal-I'll find some loose change in the couch! This was a Greek drachma-which might be footnoted at the bottom of your Bible-and it's equivalent to a day's wage. You wouldn't want to lose out on a whole day's pay-that's why she's frantically looking. For this woman it's valuable income! Likewise the shepherd considered his lost sheep valuable. He didn't say-Oh well-I've got 99 other sheep-what does 1 amount to. It's only a 1% loss-I can afford it. Instead it says in v. 4. That's a risky move because something could happen to the other 99-wolves, thieves, a thunder storm-any number of possibilities. But that's the chance he's willing to take. And leaving the 99 in the open country doesn't mean he's an irresponsible shepherd. Instead, Jesus is highlighting the fact that the shepherd was determined to have that lost sheep back. He was focused and willing to do whatever was necessary. Because look how long he searched-until he finds it. Or back to v. 8. Same phrase. Would you be that diligent to sweep down your entire house? Or is it a quick, cursory glance and you're done? This is some dedicated searching! But this woman, just like the shepherd, is willing to do whatever is necessary to find what is lost. Neither will abandon the search until it's recovered! And we realize that Jesus is using this parable to describe who? Himself. Look at His mission-John 6:39 NIV. Jesus isn't about to lose any of His sheep or coins-meaning He's not about to lose any of His followers. Therefore the starting point for these two parables is Him. He's the main character. He's the shepherd whose sheep has wandered off; He's like this woman whose coin has disappeared. Something valuable is lost-but here's where the parable hits home. What's lost is you and me-and thankfully Jesus is good at finding lost stuff!
I want you to think back to the last time you were lost. With GPS on our phones it's hard to get lost these days. You may turn down a wrong street or be directed to the wrong place-but often the GPS is recalculating or rerouting you. The last time I felt like I was lost was in the Rambles at Central Park. Those are some windy paths back in there-you forget you're in the middle of NYC and feel like you could be out in some forest in the middle of nowhere. Or one time on a missions trip to India myself and our team got separated in the market place from our driver. We had no idea where we were or what street to turn down-and of course we didn't have cell phones that worked in India-so as a team we had that moment of fear that if we don't find our driver we'd be literally lost in India eating curry the rest of our lives! But when Jesus talks about being lost He isn't describing a geographical problem-but a spiritual problem. Take a look at what God's Word says about being lost-Isa 53:6a; Hosea 11:1-2, 7a; Rom 3:10-12. So while the lost coin may have dropped from the ladies purse and rolled across the floor and under the couch, the lost sheep wandered away on its own. It saw an open pathway, a hole in the fence-and it fled. And that's like you and me. These verses are describing the condition of our hearts. Ever since Eve fell for the serpent's lie that she could obtain her own happiness apart from God, you and I have been doing it ever since. God, I don't need to obey your Laws, I'll determine for myself what's right or wrong. That path looks interesting to me-I think I'll go that way. Don't spoil my fun, Lord, don't ruin my creativity or put a damper on life. I know what's best for me-so I'll go get it. And what we're really saying is-Lord, I don't trust you for my happiness; I trust myself. I'll obtain my happiness apart from you. And that's the essence of what sin is-a heart following it's own ideas instead of God's. It's turning away from Him. God says go this way-and you and I go our own way. We wander away from God's plan down whatever sinful path or road we can find.
The problem is that a lot of people don't admit they're lost. I'm just trying to find my own way in life, trying to do my best. Everybody needs to discover their own truth to follow. You do what works for you. You see one of Satan's best strategies is to convince people they're not lost. You're doing fine. You're not perfect-but who is? Don't worry about it. It'll work out in the end. Everybody makes it to heaven. No one is too far gone. But that's not what Jesus is saying here in Luke 15. The sheep and the coin weren't just wandering around somewhere nearby-they were separated and lost-and unless someone earnestly and thoroughly searched for them they'd remain lost. And that's the case for you and me. Unless somebody goes looking for us, we'll remain lost and dead in our sins. So Pt1:The God who rescues us-instead of rejecting us. And I find this truth remarkable. Why would this shepherd bother to go find 1 lost sheep when he already has 99 safe ones? Why would this woman turn her house upside down for 1 silver coin when she has 9 others. Put in some overtime and she'll make up for the lost wages. This is the analogy Jesus is making-and on a much greater scale than sheep and silver coins-is our situation. Why would God bother to search and look for lost and sinful people who rejected Him? We got ourselves into the situation-shouldn't we be the ones to get ourselves out? If we're the ones that turned away from Him, shouldn't He be waiting for us to get our act together and turn back to Him? That would make the most sense-but that's not how God operates. He doesn't wait for us to return to Him because a) He knows we never will since we're lost, b) He's a God of grace-and that's precisely what grace is-undeserved love that searches and finds us when we're at our worst.
Having just had Halloween, maybe you saw someone dressed up as Frankenstein.
He's sort of a classic Halloween character with the flat head and green face. But if you've ever had the chance to read the book by Mary Shelley it's great. The main character is Victor Frankenstein the scientist who takes various body parts and puts them tougher to create life. The creature-as soon as Dr Frankenstein sees him-is ugly and freakish-probably the flat head! But he's horrified by what his scientific achievements have created-so he calls him a monster instead of a person. Dr Frankenstein rejects his creation saying I want nothing to do with you-and the monster runs away and ends up causing lots of destruction and mayhem. But Dr. Frankenstein doesn't want to see or find his creation ever again. He wants to hide from the monster and pretend it never existed because of all the damage and horrifying things he's done. And that story isn't far off from the story of our lives. Dr. Frankenstein represents God our Creator-and it would have made sense for God to reject us considering all the damage we've done. God could have easily recognized what kind of monsters we've become, the horrific ways we've acted. And He could have said I reject you and never want to see you or find you again. But He doesn't do that! Instead of rejecting us-even though we've become monsters in our sin-He goes out to rescue us. It couldn't be more opposite. We deserve rejection but receive rescue. That's the gospel-and it's all based on God's grace and love for us. Dr. Frankenstein had no love-only hatred and remorse towards his creation-but our Creator isn't like that at all. Pt2:The God who finds us-instead of forsaking us.
You can't forget that you are valuable to God even when you're at your worst. You may have made a mess of things in life, decisions you regret, words you never should have said, things you wish you could undo and take back-but despite all of that you have a God who searches for you. This sheep made a bad decision to wander off-you and I have made equally bad decisions to wander off in our sin. But we have a God who goes to where we are in order to restore us and forgive us. Look at how this unfolds-Luke 15:5-6, 9. And I love that visual description-it's like the woman holds up the coin and the whole neighborhood is cheering. She's has a party for 1 coin-but now she has a bunch of people at her house to help her move all the furniture back in place! But these 2 scenes represent the moment of salvation in these parables. That instead of forsaking us by saying too bad, you blew it, you got yourself lost, now you're stuck. This is when God takes the initiative and finds us, drawing us to Himself-not because of what we've done-but in spite of what we've done. Look at how this is described in Ps 107:10-15. God could have forsaken those people who spurned Him. What sort of relationship do you have with people who've spurned you? Probably not a very good one. But God in His grace goes out and finds those people and saves them. How did Jesus summarize His mission in Luke 19:10. Those He seeks, He finds, and when He finds them, He saves them. And who did Jesus say these words to? A lost scoundrel named Zacchaeus. Here's his description-Luke 19:1-2. Zacchaeus wasn't just any old tax collector but the chief tax collector. It would be like saying He was the ringleader of the crime circuit or the mob boss. One author said that tax collectors were turncoat Jews who had sold their souls to buy Roman tax-gathering franchises so they could prey on their fellow Jews. That's what Zacchaeus did. So the description saying he was rich is important because he got rich swindling and stealing people's money. Zacchaeus oversaw all the other tax-collectors and made sure they were taxing the town's people to the hilt. If there was anybody to blame, anybody to reject and forsake-it was Zacchaeaus. People were poor and starving so he could sit at home and be rich and well-fed. So why would Jesus go out and search find someone Zacchaeus of all people? Why seek out such a slimy, greedy guy? Shouldn't Jesus have acted like Robin Hood and taken all the money from Zacchaeus to give to the poor? Why show him grace? And maybe you remember the search-Luke 19:5-7. That's exactly right.
It's ironic that their statement is made with sarcasm and contempt-but it's correct. That's exactly what Jesus did. He went and was the guest at the house of a man who was a sinner. But that's what Jesus' mission is all about. Zacchaeus was as sinful and lost as anybody could be-therefore his salvation is truly remarkable and a testament to God's underserving grace. Jesus goes out to find the lost because in the face of sin, grace is truly grace! He saves those who don't deserve it. And it's no different for you and me. We weren't in any better shape than Zacchaues when the Lord came into our lives. And if you think you were, if you think you were somehow more deserving or a better person or better behaved and not nearly as lost as other people-than you've missed it, just like the Pharisees missed it. They couldn't get their head around Jesus' mission-so they grumbled about it. Why would Jesus go have dinner with such a lost and unworthy person like that? And that same grumbling is found in the passage we're looking at this morning.
We said we would return to the context of these 2 parables-Luke 15:1-2. It's no different-same complaint. Why would Jesus spend time with people like that? And we can all think of people like that. People that we would judge, write off, look down on, or not consider worthy of Jesus. And what's the reason we would give for people like that-they're too bad, too sinful, too different. Basically, they're too lost. And that's precisely why Jesus is telling these two parables about a sheep and a coin that are lost. Things that would otherwise be good as gone and written off-until someone goes out to find them. They don't return of their own accord. That sheep doesn't end up making his way back to the sheep pen to rejoin the flock so the rest of the sheep are like-good to see you buddy! The shepherd goes and searches far and wide, the woman sweeps every corner of the house-until she finds it. And that's our hope spiritually. Jesus doesn't demand that you find your way back to Him. He doesn't ask you to clean yourself up first or try hard to look good before He'll receive you. Rather, in your state of brokenness and lostness, He comes to find you. He doesn't care about your performance or how religious you try to appear. He sees right through any facade you put up and looks at your heart. He's after a heart of humility and surrender. A heart that knows its lost and that He's the only answer. Once again-Jesus is good at finding lost things-and that includes you and me. Amazing Grace, how sweet the sound, that saved a wretch like me. I once was lost but now I'm found. Found by a God who loves to save.
Because you cannot miss the reactions in these parables-v. 6-7; 9-10. And that's Pt3:The God who saves us eagerly-instead of grudgingly. Nowhere in either of these parables does it say that the shepherd and the woman had to force themselves to look for what was lost. Nowhere does it say this was drudgery or a chore. Certainly it took work-the woman searched and swept the entire house-but it was with joy in mind. I eagerly want to find this coin-because it's so important to me. And that's how God sees you. I think we tend to believe that God saves us because He's obligated to do so since He's God-but that deep down He's not really happy about it if given the option. Have you ever thought that or felt that way? You know your life, your heart, the choices you've made. You may try to look good to others on the outside-but you know yourself-and you think there's no way God was excited to save you-that He must have rescued you out of sheer obligation; that He must have saved you because it's His job. Okay, fine-I'll save that guy but I'm not happy about it. Author Jared Wilson shares what we've all felt-Imperfect, 18. But God doesn't save us grudgingly or out of obligation. He saves us eagerly! Jesus talked about these people calling their friends and neighbors together for a party. He talked about joy in heaven when the lost are found. I love what Jerry Bridges says-Bridges, 62.
So live in the wonder and joy of His forgiveness. The Lord is throwing a party because you are His. If you've trusted in Jesus-you went from hopelessly lost to graciously found. He's eager to make you His-and as His child you will never be lost again. That's what I love about these parables. Jesus makes no mention of this sheep or this coin being lost again. They've been found-once and for all. Maybe you're someone who loses your keys all the time. Oh no-not again! And you're constantly searching for your keys. But Jesus never loses those who are His. Nothing can separate you from Him-Rom 8:35-37. None of that stuff will take you away from Him. You are eternally secure in Him-never to be lost again.
Now you might still wander away at times (in fact you probably will). You might fall off the path, stumble and trip, lose your way-even feel like you've failed. But if you've trusted in Jesus He will always find you and bring you back. He has loved you, called you, saved you, cleansed you, forgiven you, and will one day welcome you home. Look at the progression of this in Rom 8:30. There is no mention of someone getting lost again in that process or falling through the cracks. Instead-predestined (He knows you are His), called you (there's the searching and finding), justified (that's when you're saved and declared righteous in His sight), and glorified (that's when He welcomes you home). God does all that for you. That's the trajectory you are on if you're trusted in Jesus and repented of your sins-and because of that there's great joy in heaven. Back to Pt3. But the Pharisees in Jesus' day, the religious ones don't see that. They failed to see the eager work of God's grace and only saw their own prideful efforts. In fact, the main difference with someone of Pharisee tendencies is that they don't rejoice when God saves someone, they judge them. Do you know people like that? Not rejoicing but judging? Even more convicting-is that you? Do you hold someone's past against them and find it hard to believe God would save somebody like that-Well, I'll see about your new faith-I know who you are and the things you've done. And your goal is to constantly remind them of their mistakes, or roll your eyes saying told you so the next time they mess up or even giving them the cold shoulder at church. People probably thought that about Zacchaeus. Now what's this tax-collector doing at church? He's cheated a lot of people out of a lot of money. What's this new-found generosity? There must be a catch! I'm sure a lot of judgmental eyebrows went up after hearing about Zacchaeus' faith. But how did Jesus describe the heart of heaven-v. 7. And the reality is that those people don't exist. There aren't righteous people who don't need to repent. We're all in this boat together. We're all desperate for the Lord's grace-and we should all celebrate that grace when it transforms someone's life. The big question is has it transformed your life?
And that's when these parables-these everyday stories becomes eternal truths-because Jesus didn't come down to earth with a flashlight or a lantern searching to and fro. He wasn't sweeping the house looking in every corner. Hello-is anybody there? I've come to rescue you. In order to find you and save you, Jesus laid down his flashlight and broom and picked up something else-a cross. His mission was far more costly than just searching and looking-what does He say in John 10:11. He's not just a shepherd who searches for us, He's a shepherd who dies for us. He says it twice more-John 10:14-15, 17-18a. Not only would Jesus go however far to find you-He would do whatever's necessary to save you-and that means offering up His life in exchange for yours. And do you remember what we said earlier-Jesus wasn't obligated or forced to do it. Saving you wasn't done grudgingly or against His wishes-No one takes it from me, but I lay it down of my own accord. Jesus willingly lays down His life for you-so that He can joyfully carry you home. As one author says-He hoists us on His sovereign shoulders made wide by the cross. One last time-Luke 15:5-6. That sheep is you and me-and Jesus says-Let's celebrate and have a party!
Application Questions: 
Are you someone that tends to lose things? Describe a time you earnestly searched for something. Did you find it?
Read Luke 15:4, 8. How are these two parables a picture of what Jesus does for us? In what way(s) are we lost? See Isa 53:6; Rom 3:10-12. What keeps us from admitting or recognizing our lostness?
Why do you think Jesus goes out to rescue us, instead of rejecting us, when we were the ones who rejected Him? How does this reveal His grace and describe His mission? See Luke 19:10; John 6:39.
Read Luke 15:5-7, 9-10. How does God respond when a lost and undeserving sinner is saved? Do you think we can wrongly respond by judging them instead of rejoicing with them? How can we change that?
Read John 10:14-18. How does Jesus actually rescue us? Why is it important to remember He did it willingly, not out of obligation?