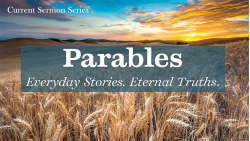 Parables: Everyday Stories, Eternal Truths – Luke 12:13-21: Parable of the Rich Fool. Pastor Jim Erwin
October 31, 2021
Parables: Everyday Stories, Eternal Truths – Luke 12:13-21
Are you a good listener? Or are you someone who gets easily distracted and lets your mind wander? Maybe this isn't the best question to be asking in church-although you're all great listeners! But what about in school-would you attentively listen to your teacher soaking up the material or were you staring out the window daydreaming of recess? Or what about work seminars-are you a good listener taking lots of notes-or do you stare at the clock and count down the minutes until it's over and you can go to lunch? Probably depends on the content-if you have to know the information for your job or certification-or even at school if the teachers says this is going to be on the test-you're intently listening! But can you think of a teacher or a speaker who took dry subject matter and presented it really well capturing your interest? For me it was freshman year of college in Calculus 2. I had a professor named Eric-he was a big fan of the Green Bay Packers, loved cheese and loved calculus! He was a great professor and made the class really interesting as we were studying derivatives and integration. Dry subject matter came to life under his teaching. But also my freshman year I can remember a class with good subject matter that quickly put us to sleep because of a dry speaker-and that was History of Medieval Literature. I thought it was going to be a class all about sword fighting, knights in shining armor and storming the castle-the teacher even wore a medieval looking shirt so we thought this guy was going to great. Not at all-he was so boring, his lectures were so dry, he just rambled on-the part of the class was his medieval shirt! Our minds wandered-we couldn't pay attention if we wanted to! But what do you do when there's good subject matter and a great teacher? You listen up because that's the best combination! Your ears are open, your mind is gripped-you're ready to soak up the information! And that's exactly what the people were doing in Jesus' day.
If there's ever a combination of good subject matter and a great teacher it's when Jesus is talking about the kingdom of heaven. Look at the people's response-Luke 12:1a. Talk about excitement! Thousands of people trampling one another to get a front row seat to hear Jesus speak! Ever been trampled going to church? Did anybody get trampled coming here this morning? But Luke is describing how the crowds are so focused and interested in what Jesus has to say they're climbing over each other. Arrive early or else you're getting trampled! But it's important to examine the context of His sermon before we get to the next parable-Luke 12:1b-2. Good start-everyone's favorite topic of hypocrisy. From there Jesus goes on to talk about God's care and protection-Luke 12:6-7. And then Jesus talks about our testimony and relying on the Holy Spirit-Luke 12:11-12. These are some important topics-and yet right in the midst when Jesus is teaching with a huge crowd all around one guy decides to interrupt him-v. 13. That's incredible! Was there any point in Jesus' sermon where He addressed property rights or inheritance issues? No! Was He discussing family relationships and how to get along with your siblings? No. Had he even been discussing money? No-at least not yet!
But here's some guy randomly shouting out to Jesus-Hey Teacher-my brother is really stingy and he's keeping all the money for himself! Tell him to share! Not even relevant-not on topic. It has nothing to do with anybody but himself! Jesus-tell my brother I deserve my half of the money. Go talk to him and straighten him out! That's what he's asking. Out of all the people in this vast crowd-this one guy wants Jesus to go talk to his brother so that he can get his fair share! I bet this guy got some bad looks from the crowd-You interrupted Jesus for that! You stopped Him mid-sermon because you and your brother can't share! Were you listening at all! Clearly he wasn't because the question was out of left field and entirely out of line. Can you imagine if Jesus would have agreed? Yes-all right sermon is on pause-everybody just wait here-I'm going to talk to this guy's brother! Shouldn't take too long-if he doesn't share then look out! Obviously Jesus doesn't do that. Instead He rebukes him right away-v. 14. Jesus is saying what is up with you? What are you thinking? He's telling the guy He isn't a lawyer or interested in debating the details of estates and inheritance rights. Instead Jesus recognizes that in the midst of this huge crowd, as He's preaching, there's some guy only worried about himself, making sure he gets his fair share and doesn't get ripped off. It's such a shallow, me-centered, temporary perspective on life. So Jesus doesn't bother to answer his question-but He does take the opportunity to expose his thinking and turn it into a teaching moment. Notice how Jesus goes back to addressing the crowd-v. 15. If you have the NIV it says be on your guard against all kinds of greed. Jesus isn't going soft or trying to be sensitive-He's saying it like it is-Don't be like this guy. The whole time I was talking about spiritual things this guy has money and materialism on the brain. He's using his question as an example-Look out so that greed doesn't consume your heart like it does his heart. This guy is literally listening to Jesus preach-eternal truth is right in front of him-but he misses it, he can't see it because he's blinded by a love of money.
Did you notice how Jesus said-take care, watch out-be on your guard-because greed is such a sneaky little sin. Jesus doesn't say watch out so you don't lie-because when you're lying you know it. He doesn't say watch out so you don't gossip-when you're sharing something you shouldn't you usually know it. But greed is far more sly. Even though we all agree that the world is full of greed and materialism hardly anyone thinks it's true of them. In Bible study or small group have you ever heard anyone confess that they were greedy and loved money too much? I've heard people confess anger issues, bitterness, frustration, jealousy, struggles with different sin issues-but I've never heard anyone actually admit-I love money! I spend way too much money on myself-I'm too focused on my stuff-having money is all I think about. No one admits that. When has your small group leader ever said-let's circle around and pray for our greedy brother. No one! So Lie#1-Greed doesn't affect me. That's how we think! Do you say that to yourself? Are you convinced it isn't a problem for you? Or does greed actually lurk in the depths of your heart? That's what Jesus wants us to examine. That's why He's saying watch out and be on guard because greed always tries to hide itself. Greed loves to justify itself-I don't spend money like my neighbor-that guy's greedy. You should see the stuff he buys. Not me-I scale it back. And so we rationalize any thoughts of greed because we think it's a problem for the person who has lots of money. But Jesus isn't warning the crowd of having too much, He's warning them about wanting too much. Covetousness. Being consumed by what you don't have and wanting it at all costs. This guy was probably right that his brother did need to equally share the inheritance. His request isn't wrong-but Jesus is revealing that his heart is in the wrong place because his fair share of the inheritance is all he can think about. That's covetousness.
If you didn't realize it's the 10th Commandment-look at Ex 20:17. You wish you had your neighbor's house, or your neighbor's cars or your neighbor's donkey-my donkey's terrible-wish I had his donkey! But it's so easy to want what others have. Look at Col 3:5. That's what lies at the heart of coveting-idolatry. Longing to have what God in His perfect wisdom has chosen not to let you have-at least not right now. What things are you coveting? What things are consuming your heart? Back to Jesus' warning-Luke 12:15. Jesus is saying a person's life isn't measured, it isn't evaluated or judged by how much wealth they accumulate. At least that's not how God measures someone's life-but in the eyes of the world this is how we tend to evaluate someone's life. How many times have you heard someone say-He's been really successful in life. He did well for himself-lots of success. And what's that describing? A life of successful relationships? Successful in raising a family or successful in following Jesus? No-it always refers to money. We label someone successful if they've achieved prosperity and riches. We define people by what they own and purchase. The haves and the have-nots. We'll say they made it in life. And that doesn't mean they made it to a high level of integrity and faithfulness-made it refers to finances. So we literally do the opposite of what Jesus is saying-one's life does consist in the abundance of their possessions. You did well for yourself-look at all that you've amassed over the years. And that becomes Lie#2:A Successful life is based on my wealth and possessions. Do you believe that? Are you questioning your success because your wealth isn't where you hoped it would be? Jesus wants us to clearly see that God evaluates a life-your life and my life-on an entirely different basis from the world. Not only is He telling us to watch out when it comes to greed-but He's also telling us to rethink this and ask the follow-up question-If life doesn't consist in the abundance of possessions-then what does life consist of? That's the key question of the passage. How would you answer it? At this point, Jesus has laid aside His sermon notes after getting interrupted and is dealing with the issue of riches. What constitutes a successful life? What really matters? How does God view success? And in order to answer that-Jesus tells a parable.
So look how it starts-v. 16. There's the dream-the land, the farm, the start-up business and it's booming-profits are great, sales are way up. If this was the fast-food industry picture Chick-fil-a with their long lines. Business is so good there's a problem-v. 17. Huge surplus-what should he do? What would you do? And before we see it-listen to what Jesus says later-v. 33. That was certainly a possibility-distribute the extra food to the poor. Or at the very least he could have prayed asking what God would have him do with all his surplus crops. But that isn't his response-v. 18. I'll just keep it for myself-its my grain and my goods-I worked hard for them. True-so v. 19. I love the self-talk! Soul-it's time to put my feet up and unwind. Time to head to my beach house, retire early and enjoy life-this is exactly what I worked for all those years. Time to get some much needed R&R! And let's pause a second because we know Jesus is describing this guy in a negative light and that this parable will teach us something-but doesn't this sound logical? Doesn't this seem to be normal thinking? To work hard, make good money and then enjoy the fruits of your labor? This guy wasn't lazy, he was industrious and ran a good business and made a huge profit-time to get the rest he deserves. The trouble with this parable is that it really describes the way we all think; it captures the values and dreams of our society-because if we're honest with ourselves our goals are nearly identical to his goals. One day I'll finally have enough money to buy that dream home; I'll move south and live somewhere warm. I'll golf everyday and go fishing without a care in the world. Spend my days along the beach or out in the woods with some peace and quiet. Won't it be great when I get to retire and put my feet up and relax-eat, drink and be merry. His goal is often our goal. But remember we said the parables are like a Trojan Horse-they sound so safe and tame until the trapdoor opens-the trapdoor opens at the next verse-v. 20. Remember Mr. T from the 80's-I pity the fool-that's what God is saying to this guy! God is saying-You couldn't be more mistaken about life and what it consists of. Tonight it's all over, your life ends. What does your hard work amount to now? What happens to your big barns of grain and all your profits and possessions and wealth? Your plans to eat, drink and be merry are interrupted by a crazy little thing called death! You see this parable is the story of a dying ma, someone leaving this world-and everything he worked for gets left behind. His great goal in life of saving up all his riches stops at the grave-it goes no further. The rich man, just like the poor man, enters eternity with nothing in his pockets. Have you thought about that? You enter eternity without your wallet or car keys or access to your bank account-it's just you!
Look at Ecc 5:15 NIV. Remember King Tut's tomb-he was buried with all that gold and treasure-the Egyptians thinking he could take it into the afterlife-have some nice statues and chariots in heaven-but all that stuff sat there and collected dust for over 4,000 years until it was discovered by archaeologists in the early 1900's. It may have been buried with him-but he couldn't take it into eternity. So Lie#3:I own all my stuff. Completely wrong! God owns everything-we are just borrowing it. There is nothing you own, there's not a possession you have-a family heirloom or a favorite pair of jeans-that you're taking to the other side. Everything in your house, everything you've purchased, the boxes of old stuff in your basement you can't get rid of, your collection of golf clubs or baseball cards or records or vintage toys from your childhood (not that I have a bunch of Star Wars action figures!), the cars in your driveway, the food in your refrigerator, even the clothes on your back-and the money to buy it-is all on loan from God. This world is like a huge library-and all the books are due back when you die. So back to Luke 12:18-19-and notice the error of this man's thinking-my barns, my grain, my goods, my soul-and the ironic thing is that he doesn't even own his own soul-God wanted that back too-look at it-Luke 12:20-21. So the question isn't what will you do with all your stuff? How will you spend all your money? The question is how will you be a good steward of what God's given you in this relatively short life? Look at that last verse-v. 21. What a phrase-rich towards God-does that describe you? How will you stand before God the day your soul is required of you? Will you stand as someone who's put God first and sees your possessions as a gift from Him to be used for His glory? Or will you be someone who sold off your life for possessions, treating earthly riches as far more valuable than heavenly riches? Will you be someone who takes and keeps everything for yourself-like the guy in the parable-saying this is mine-my barns, my grain, my goods-I worked hard for it. Or can you be someone who holds those things loosely, giving them up and investing yourself in God's kingdom-knowing that if He's provided for you right now-He'll provide for you in the future. That was this man's biggest mistake-he trusted in his stuff, keeping it all tucked away-I have ample good laid up for many years-look at how I've provided for myself-when all along he should have been trusting in his God who provides ample blessings for all of eternity!
Listen to R. Kent Hughes:
He was a fool because life is short. A sensible person will choose what is best for the long run. He will consider what will be best for him between his twenty-thousandth year and his seventy-thousandth year, not just his three score and ten. The man was a fool because he did not reckon with the fragility of life.
We can plan our savings, and build huge accounts to hold it all. We can plan our menus for the twilight years so that nothing but the finest cuisine crosses our lips. We can live as if this is all of life. We can laugh our way to the grave—only to discover at the end that we have
nothing and are in God's eyes fools. The way to become rich toward God is to invest in Christ's church and in the lives of his people.
Kent Hughes
"Luke "
That's where Jesus funnels down this parable. The hard working man didn't necessarily do anything wrong-he worked hard and built a successful business-but his heart was in the wrong place. The guy that interrupted Jesus didn't do anything wrong either-he just wanted his fair share of the inheritance-but again his heart was in the wrong place. What about your heart? We're not talking about awful people and hardened sinners this morning-we're talking about people with skewed perspectives-but when it comes to serving God having a skewed perspective is a serious mistake. So there's 3 applications to reflect on this morning-App#1:Do I love my stuff more than my Savior? That is such a simple but profound question. It's one that we wrestle with everyday. Our stuff, our possessions, the things we want, the things we're working hard to get are always looming right before us-but can we see through those things and see Jesus and what really matters by following Him. The guy who interrupted Jesus couldn't really see Jesus-he just saw his brother taking a part of his inheritance-and he missed the eternal inheritance that awaits. Look at what Jesus says about it later on-v. 32. That's remarkable! What is bigger, better, more permanent and more glorious than that? We're sort of seeing the kingdoms of this world crumbling lately, inflations rising, who knows what's ahead. But this is an incredible offer from God, a permanent reality for all who trust in Jesus. Do you love Him and His eternal kingdom-or do you love your stuff and your little temporary kingdom that ends at the grave? That leads to App#2:Am I rich towards God and investing in His kingdom? Are you using your gifts, your talents, your resources, even your finances to grow and expand God's kingdom-or are you just expanding your own bank account and building bigger barns? What's the goal you're working towards? Or what about your time? Are you working all the time, logging in countless hours at the office or job site so there's no time at all to reach out and get to know others? You're just way too busy. No time to serve the church or study God's Word or grow in Him-you're too worn out from everything else? When Jesus talks about being rich towards God-it means an earthly sacrifice in your life-you can't be rich towards God if your main focus is the here and now and trying to provide for your own future-laying up ample goods to eat, drink and be merry. Being rich towards God means trusting that He will provide for you as you invest in His kingdom. Because what is life all about? Back to Jesus words right before the parable-v. 15. That is not the way your life is evaluated when it's all over-even though that's how the world evaluates it. The Lord doesn't examine your earthly investments or look at how much stuff you acquired-so the last question to ask yourself-App#3:What does my life consist of? Tough question-how would you answer it? What are you all about? What are you chasing after and hoping to achieve? What does your heart treasure? Who does your heart treasure? There's an old hymn that answers this question really well in verse 3-Be Thou My Vision.
Riches I heed not, nor man's empty praise,
Thou mine inheritance now and always,
Thou and Thou only, be first in my heart,
High King of heaven, my Treasure Thou art.
"Be Thou My Vision" ~ Eleanor Henrietta Hull 
Life does not consist in the abundance of your possessions; life consists in knowing and trusting in the abundant grace of Jesus who loves you, saves you, gives you life, and offers you a future unlike anything else in His kingdom. Let your heart treasure Him!