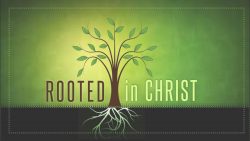 Colossians 3. January 2, 2022. Pastor Jim Erwin
January 2, 2022
Colossians 3 – Last Sermon – January 2022
So this is it-I am deeply honored one last time to step onto the stage-and use this music stand I dearly love-and preach God's Word. And before it gets too emotional I want to find out if everyone has had a good start to the New Year? Here we are only 2 days in-2022. Again I have to say that as a kid in the 80's when our teacher had us draw what life would look like in the future-I always imagined flying cars and a space colony by now. I doubt that any of us drew a picture of pandemics and masks! It was space suits. But nonetheless here we are-and yet there's always something really exciting about a New Year and what lies ahead! It's about new beginnings-and that's certainly the case for us today. A new beginning for us-and a new beginning for Dix Hills. And can I just say right now-that God's got this-for all of us. He always has! Back in 2003 when I had just finished seminary and Monica and I were moving to London-which was exciting but also nerve wracking-a good friend of ours said something that's always stuck with me-God hasn't brought you all this way just to drop you now. That He was with you in seminary carrying you through when you so needed it-and now He'll be with you as you move overseas embarking on this new journey. God hasn't brought you all this way just to drop you now. And that's true today. God hasn't brought any of us this far along just to drop us now and leave us on your own. Instead He's totally got this-He'll be with us as we head west on our new ministry journey-and He'll be with Dix Hills Church right here. It's never a question about God's presence and faithfulness-He's always with us. It about us faithfully looking to Him and not ourselves.
And that's exactly what our passage is telling us to do this morning-Col 3:1-2. And this is always one of my favorite New Year's passage. I spoke about it at the beginning of 2019. And once again it's so fitting in 2022-because it's that much needed reminder of where to fix our minds. Because where do we naturally tend to look and think about? The things above where Christ is? Or the things below here on earth? It's way too easy to look at everything around us and start getting worried, freaked out, nervous, scared or frustrated. And we start playing the what if game in our minds. Lord, what if this happens or that happens? What if things don't work out like I expect? What if 2022 is a difficult year and the pandemic continues and inflation rises? What if things don't get back to normal? What if… And a thousand different scenarios roll through our minds—all of them usually worst case scenarios! But are what if's ever the truth? How often do the what if's end up happening? So what is the truth-Col 3:1-2. Our Savior, the Messiah who's birth we just celebrated, the God who took on human flesh and came to earth for us, is now ascended to heaven and on the throne seated next to the Father. Paul's reminding us of where Christ is-because it means He's in control. He's in charge. No one is greater than He is. Nothing happens outside His will-and that means He hasn't brought you all this way just to drop you now. He wants you to set your mind on Him. Why? He gives the answer next-Col 3:3-4. Paul has just reminded us of our current identity and our future trajectory!
If you've repented and trusted in Christ to forgive you and save you-then you are not who you used to be anymore-because your new life is in Christ. Hidden away in Him-not meaning hidden like you can't find it-but hidden meaning eternally secured in Christ. And then when He returns to earth and makes all things new-you will take part and share in that glory-because your life is forever bound up and identified with Him. It's all about how you are someone new now-and will be that someone new from here on out-all of eternity. Pt1:Trusting in Christ means we are not who we used to be. When was the last time you realized that? You are not the old you if Christ is in you. Your identity has forever changed-and it's now about who you're becoming in Christ-because that's who you are. Trusting in Christ isn't about trying to be a better you-it's about realizing the fact that you are a new you which changes everything. Look what it says about the old you-Col 3:3-4. You're old self isn't just fading away or on the way out-it died. It was put to death with Christ on the cross. Look at Gal 2:20. Old you is gone-new you lives by faith in Jesus. Is this how you now live? Or-2 Cor 5:17. That's not saying you might be a new creation-that's saying you are a new creation if you're in Christ. So the big question-how much of that new creation, that new self is shining forth? Or how much of the old self is still hanging around and that's what people see?
For example, here we are on January 2nd. New Year's resolutions are still going strong. In fact, it's this very day that always feels like the first day of healthy eating. You ate all kinds of delicious food and chocolate and cookies at Christmas-then New Year's Day still feels like a day to sit around and eat junk food-but come today-January 2nd-it's time to get healthy and eat more vegetables. Work in a bit more fruit-cut out the carbs, ease up on the pasta and garlic knots. Because let me ask the obvious question-what happens when you're trying to live a healthier lifestyle? Hopefully you get healthier-that's a no brainer. Lose a few pounds, start looking better, have more energy, sleep better at night-lots of positives. But what also happens when you're trying to live healthier-it interferes with your old diet and habits. Unfortunately it means losing the bowl of ice cream at night, or the chips or brownies or bagels or pizza (maybe not pizza). But getting healthier interferes with the food you love-maybe it interferes with your routine of hitting the drive-thru at lunch, or interferes with sleeping in because now you have to get up early and go to the gym or out for a run. There is no way that you can get healthier and not have it interfere with the way you like to live. The question-How can I lose wight and get in shape while never dieting or exercising-does't work. I want to get fit and still eat this bag of Cheetos before bed is just a fantasy. Physical health requires actual changes you make and new habits you form-and it's the same way spiritually. Look at how Paul drives that point home-Col 3:8-10. Just like it's physically impossible to get in shape by never dieting or exercising-so it's spiritually impossible to follow Christ without changing any of your behaviors or attitudes? How can I stay the same and still pursue Jesus-doesn't work. You can't. Because you're not the same anymore when you follow Him-you are someone new. Pt2:Following Christ always interferes with our old self.
And that's a good interference that's much needed. Insisting on the staying the same, insisting on always doing things your way, insisting on those old attitudes and how everybody else needs to change-isn't how Christ has called us to live. He's given you a new identity when you trust in Him-and now He's in the process of transforming you and letting that new identity emerge. The question is how much do people see that in you? Do they see more and more of Jesus in you-or do they just see more and more of you? We need Him to interfere with our old selves-they need to be disrupted, they were put to death the moment we trusted in Jesus-and they need to stay dead! This idea of putting off the old is like old clothes-I've gotten rid of many-(Thank you sweater you treated me well!) But I'm not to put them back on-wear the new clothes-and it's the same way spiritually. Because how are we called to live-Col 3:12. Are those things true of you? Are those attitudes emerging more and more in your life by following Christ? Listen to how vivid Paul gets-Col 3:13. When you're called to bear with someone-that means they're acting like a bear-and being their worst. And instead of giving up on them and getting mad-Paul says to bear with them-that's really what patience is all about. Don't we all need people to bear with us when we're at our worst? Or what about forgiveness? What would happen if the church was overflowing with forgiveness instead of holding grudges? It would be a night and day difference from the world! And then Paul says-Col 3:14-15. What would happen if you did that in 2022? What if the peace of Christ ruled in your heart? That instead of anxiety or frustration ruling your heart, instead of your emotions always carrying you like a roller coaster-you let the peace of Christ rule your heart? That whenever you encounter something new, or something unknown and challenging-that when God is trying to stretch you and grow you-you let His peace rule you?
We're back to where we started-God hasn't brought you all this way just to drop you now. He's got this-for you, for me, for Dix Hills Church, for all of His people. Yes change is coming, change isn't always easy. We like the familiar-but our faith isn't in the familiar-it was never meant to be. Faith in the familiar is really no faith at all. Don't forget that. If you only trust God with what you can see or understand, you're not really trusting Him. Instead our faith is in our good Father in heaven who knows exactly what He's doing! And that should fill us with confidence and peace. Because even if we might not see what's up ahead-we can see His Son. And He's where we're commanded to look-Col 3:1-4. And that's our future trajectory-the hope for each one of us when we trust in Christ. We're going to live in the glory of His presence one day-all of God's people together-in the land of no more goodbyes. Isn't that great! Or maybe not-you're here for all of eternity-how did they let you in! No-we long for the land of no more goodbyes which is our real and permanent hope. But we're not there yet-we're still on the journey. We're still traveling through and making our way home. And each of us has different roads to take. Different paths and places where God's called us to serve Him until we reach home-CS Lewis quote. God's transforming us to be more and more like Christ-and we're all called to follow Him and fix our eyes on Jesus as He does-Heb 12:2-3. Communion