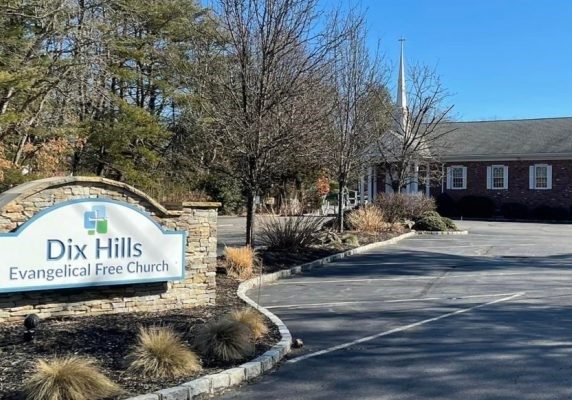 Welcome, We're Glad You're Here!
At DHEFC (Dix Hills Evangelical Free Church), we're always excited to welcome new friends. We hope you'll join us for a service, and we want to make your visit as comfortable as possible. Our service aims to be worshipful and hospitable for each other and our guests. To learn more about our service please see the Frequently Asked Questions below or to learn more about Who We Are, please click the link below!
Frequently Asked Questions
Our church is located at 28 Foxhurst Road, and parking is located in front, on the side and behind the church. 
Our Sunday School starts at 9:00am and our Worship Service begins at 10:30am. We have a fellowship time in-between with snacks and coffee. We would love to meet and get to know you during our fellowship time before the Service.
Parking is located in the front, sides, or behind the church. If you have mobility restrictions or young children to carry, feel free to use one of the spots closest to the main door (Side entrance has a ramp)  Our service is currently in the Multi-Purpose Room (MPR), easiest access is through the door in the back of the Church. If you aren't sure where to go feel free to ask one of our ushers - they would be happy to help!
Please don't worry about what you'll wear to church, the dress is casual.  There is no specific dress code. Once you walk through the doors, you'll see that the congregation has all types of people in all kinds of dress. Shorts are as welcome as suits, and you'll see both.
The Music style is a blend of Hymns and Contemporary at our service.  
Our Sunday School for all ages meets at 9:00am. During the Sunday School hour the nursery is open for parents to use but is not staffed. During the Service we offer Nursery (Birth-Age 2), Jr Kids Church (Ages 3-5) , and Kids Church (Grades 1-4). Both Jr Kids Church and Kids Church dismiss part way through the service. We also have kids sermon notes available for kids staying for the service!
Our service lasts on average about 1 hour and 15 minutes. During this time you'll be invited to worship with us as we sing and pray together. Our sermons are usually around 30-40 minutes. On the first Sunday of the month, we will typically share Communion.
Don't worry we won't single you out in the service, but we would love to get to know you! Feel free to find one of the ushers and introduce yourself, and they would be happy to help answer any questions you may have. Many people like to come early for the fellowship time or stay after the service to talk - it's a great time to get to know people.
Check out our other ministries!